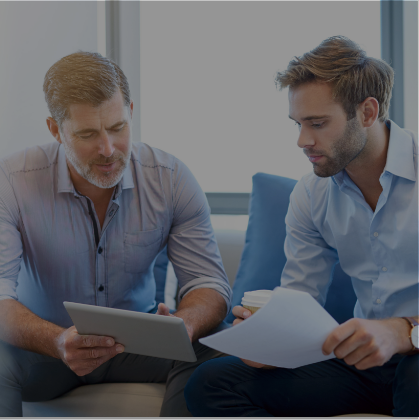 /**
Why you could be costing your business
*/
Ouch, you're the weak link
It can be a hard pill to swallow, but it is not uncommon for growing business debt and a downward trajectory to be due to the owner. There are a few common scenarios as to why they may happen.
Are you stopping success?
When I work with businesses that are at a growth standstill or weighted down with ongoing complications, the number one reason for these issues is the absence of a clear plan. A clear plan is a roadmap for your strategy, goals and support system for when things get off track. Without it, your business is left floundering day by day. The good news is there is an easy fix, make a business plan! You can learn how-to here.
Another key blocker that may be preventing your business success is your choice of technology and applications. Outdated decisions can not only cause internal frustrations but a drop-in success potential. Microsoft reported 90% of consumers would take their business elsewhere if a business was using outdated technology. Microsoft and Intel additionally surveyed Australian small businesses and said the cost of keeping a PC for over four years is over $5,000 per device. This is the approximate cost to replace the tech twice. These older devices also were over three times more likely to require repairs leading to a drop in output and productivity. Take a look around at what you have plugged in. Could it do with an upgrade? Could your software technologies and SAAS solutions be streamlined?
Next up is funding, funding can only be achieved when YOU put the effort in. There are various funding opportunities available to businesses on a commercial, private, state and national level; it's just a matter of putting in the work to meet the criteria. This all comes down to your commitment to making a plan and strategy to deliver on the proposed initiatives. We help businesses get there with a robust proposition to potential lenders or investors, supported by tested and appropriate financial assumptions.
Are you decreasing revenue
To even know this answer, you need to have a solid understanding of your numbers. I talk about what this looks like here. Once you have visibility on your profit and loss you can highlight what choices you are making that are costing you.
While many business owners I meet will blame money for all their problems and tell me if they had more they can do more, few accept the possibility that the choices they made got them here. More money/debt would not solve their problems because they would still repeat these patterns.
Your mindset as a business owner can be the catalyst for revenue sways. You either choose a fixed or growth mindset. The differences? A fixed mindset is defined as someone who believes talents are something you either have or don't. Whereas a growth mindset is someone who seeks the challenge of learning and developing new skills. There is the belief this also extends to businesses and organisations.
Just like having an individual growth mindset, when your business adopts a similar view it is resilient, adaptable to change and strives for innovation. A recent study into e-commerce businesses found those with a growth mindset achieved 17% more revenue than competitors with a fixed mindset across Europe, and in Britain, it was 24% more. How you set your mindset, and the overall business mindset can determine your success, or lead you to missing opportunities to optimise revenue.
Are you overstaying your welcome?
Are you missing opportunities? Is the culture shifting because you have slowed down? Are you leading the company the way you on day one envisioned? Know to recognise the signs you are creating limitations in the brand's potential.
Knowing when to exit stage left can be one of the hardest decisions you will make as a business owner. While it will always be emotionally difficult, you can determine how much of an impact it will have on overall longevity by how you set up succession while you are still at the helm.
Many business owners I engage with want to sell generally because they have had enough. This is largely due to their business being solely set around their presence. It does not have the legs to stand on when they leave, making it impossible to sell.
If you don't have a succession plan you aren't the only one. The National Association of Corporate Directors reported less than one in four private company boards have a succession plan in place.
Deloitte reported in family-owned businesses without a managed transition, only 30% survived into the second generation, 12% in third and then only 3% thereafter.
As a business owner, you need to ensure the operations and culture are continually operating without your constant direction. Having a succession plan can be difficult with the average tenure for a job reported to be just over three years. Planning who takes over next with statistics like that can make it hard, but it can be done.
Start by reviewing your strategic plan. Your succession plan should align with this. Next build the traits the successor or buyers needs to retain this vision, values and required direction for the business. To discover how to create the right plan for your business, download the Australian Government succession plan template.
So you have created a succession plan, your team can keep the wheels turning without you and you have the processes set up that don't rely on your historical knowledge…when is the right time to sell? First to learn when to sell, follow these steps from the Australian Government and review these tips from the Queensland Government.
Knowing when is based on a variety of realities such as having a lucrative offer, your health and wellness are compromised, your business has outgrown your skill sets or the market or the industry is shifting to where you can't transition your business to. It can take up to four years to sell a business, so begin the process when you have the energy for it.
There is a well-known quote from Jack Welch, "change before you have to".
When it comes to your business – sell, leave or close your business before you have to. Create the planning to always retain your control and make decisions from a place of power, not fear.
When you can't see the wood for the trees
It may be time to have someone provide an external opinion on where things are going right, wrong and what your next move should be. This is what we call a Strategic Session. In this discovery session, we will go more in-depth to gain an enhanced understanding of the causes of the issues within a business rather than focus on the immediate symptoms. We then collaborate and explore the alternative solutions and gain acceptance of the agreed solution prior to delivering a clear actionable list of tasks to undertake.