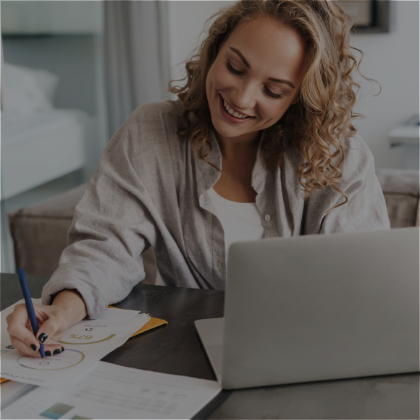 /**
How To Self Assess Your Business
*/
Uncover what works, what doesn't and how to move forward
For many business owners, not taking time to work on the business instead of in it is all too common. Usually, the only time you pull up stumps is around tax time when the dreaded deadline forces you to look at what has been going on for the past 12-months (and see where all the money went). Assessing your business isn't something you do once and move on; it should become part of your quarterly and annual plans. The best part is, it's not as hard as you think it is. There are three key areas to look into to not only help you create the right strategy in the future but get honest with what's working and what's not.
Know Your Numbers
Sounds basic, right? It no longer surprises me how many businesses do not know even their simple numbers. Understanding your bottom line is essential to not only succeed but make confident everyday decisions. Not knowing your numbers is like driving a car without a steering wheel. At a baseline, what you should understand is the:
Profit and Loss Statement
Balance Sheet,
Cash Flow,
Feeling sleepy just thinking about those? This will wake you up; a study led by a CEO of an American Bank reported 82% of business failures are due to poor cash flow management or a poor understanding of how cash flow works in business and here is Australia, over 40% cite it as the reason for closure. The Invoice Market's SME Cash Flow Crisis Report reported there is $76 billion worth of outstanding invoices and two million businesses struggling with unpaid bills. They additionally found if this issue was fixed it would generate hundreds of thousands of jobs. How businesses manage cash flow doesn't just impact them solely, it can have a much wider impact on the overall economy. Begin to improve your financial literacy by living and breathing those three reports. You should know them inside out and have the humility to get real with your position. When beginning with your self-assessment in this area, start by asking yourself:
Am I consistently generating enough revenue to cover my costs?
How much gross profit does each of my products/services make?,
Do I know how much cash is coming in and going out and when? Do I have enough?
What return am I making on my investment above my 'wage'?
Once you have a clear vision of the state of your numbers and an understanding of those hard truths, begin to review your budget and set targets. Ask yourself:
Am I spending too much money?
Have I worked out the best (and most cost-effective) way to produce or deliver my product or service?
Do I have the money to invest in fixing the problems?
Now, this part can be challenging. It can be a real wake up call to see in black and white what's making you money and what's losing you money. At times, it can be your hero product or service or client that is costing you. Ensure when you do this assessment, you go in with an open mind. Be comfortable with changing your own business beliefs and pivoting to where the numbers guide you. When I reach this stage with a client, we step back and look at all our current information. We know the numbers, we have assessed what the numbers are telling us and reviewed where we need to make changes in the budget. The final step is working through:
What products/services make money and what doesn't.
How to find the right client and invest in getting more of them and keeping the ones we have.
How to redesign the workflow to make it more effective and efficient.
How to gain any required funds to support the changes.
All these questions can only be answered by knowing your numbers; it all starts there. When you can assess your financials, it will open up opportunities and provide clarity on the way forward for you. It is also the start for benchmarking your business. At this stage, you can also utilise the Business Viability Assessment Tool from the ATO.
Look Outside
Literally. You need to have a clear understanding of what is happening right now in the market. This step starts by becoming a customer. Go shopping and check out the other competitors. Switch into the customer mindset and ask:
Why would I buy from them?
What are the selling points in the market?
Can I even find my own brand in my search?
Do I want what I don't sell?
We can get stuck in what worked when we started and forget to change with the market. Netflix started out as a DVD postal-delivery service; they recognised their customers' pain points changed and moved with them. This assessment will help you identify trends in the market you may have been missing. Identify even the most minor actions that are attracting a customer to another brand in the market. To help you here, utilise this free competitor analysis from the Queensland Government. When you have brain dumped all these observations, look at your strategy in the market and adjust your direction. This could look like this:
A change in product or service offering
A new target market
A new brand message
Your business is a living thing, and it does not need to be what you started as, and it shouldn't be. Your assessment here should be an opportunity to grow your business to the next stage.
Does Your 'Why' Match Your Customer's Needs
I mentioned the Netflix example above. This is an example of a business's why being a clear representation of the customer's needs. We have this as the final part of the self-assessment because by now, you know your numbers, you have clarity on what is happening (and working) in the market, and you are now ready to take a magnifying glass to your business's purpose. To begin, you want to analyse your current customers. Use this free tool from the Queensland Government to get you started. Here you will create customer segmentation to put onto paper precisely who and what your current customer looks like (and ask yourself, are you serving them?). Start by asking yourself:
Am I matching what I can offer to the needs of my customer?
What is the direction the business is going in, and is that in line with my customers?
How do I measure success?
Business Victoria has a breakdown of what you need to consider when it comes to matching your business to the right customers and creating the right KPIs to hit success.
Your Results
Harvard Business Review journalist Michael Maubboussin wrote in his article, The True Measures of Success, "People's deep confidence in their judgements and abilities are often at odds with reality." This is precisely the issue I see with businesses every day.
What they believe and what is actually happening in their business are not aligned with the reality of their numbers and market feedback. By understanding these three key areas, you can ensure every step is in the forward direction.
A business self-assessment is a lifeline and an opportunity to change for the better. If you need help starting your own self-assessment or need an independent third party perspective, book in for a free consultation.