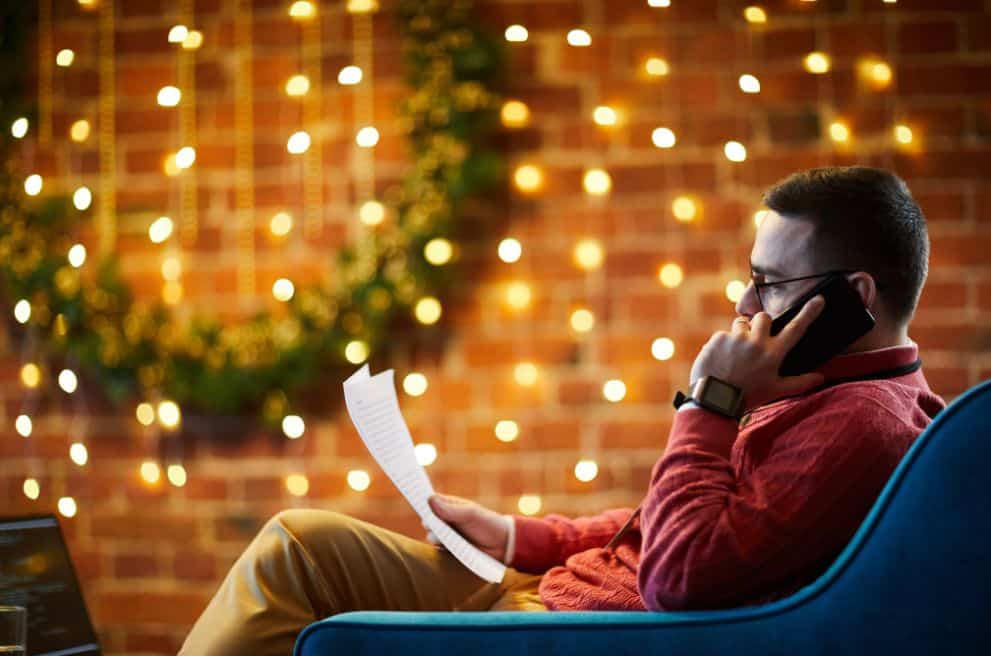 /**
As a business owner can I take Christmas off?
*/
What about any type of holiday, can I risk it?
For many business owners, the thought of stepping away from the business this Christmas is more complicated than most years. No matter how you slice it, you are likely to have faced challenges during the pandemic, and the thought of taking time off when things are starting to get back to a "new normal" will fill you with hesitations.
Here we take a look at the reasons that prevent business owners from taking a holiday at any time of year and how you can block time in your calendar with confidence.
Why business owners don't take holidays
The key reason why business owners can't take a holiday comes down to lack of preparation. Many business owners, without realising, have crafted their business to only run with their presence. Relying on historical knowledge to keep the wheels turning is a significant blocker to click 'out of office' on your emails.
Lack of resources, processes, and automation prevent business owners from holiday proofing their business. By outlining the core activities of the company with step-by-step guides, empower your employees to act when you are away and give you the freedom to step out.
The Queensland Government has provided an outline of the type of processes your business needs and how to create them. Click here to view.
There is more to gain from implementing procedures outside of enjoying vacations. Businesses with processes in place generally experience a more efficient workforce and increased profits thanks to these time-saving tactics.
How to create a resilient business
To holiday-proof your business and create a resilient business, there are key activities to undertake. While we look towards Christmas, the below will support you in taking any time off and create a team resilient to any type of daily shift.
Review your current tech stack and move your processes to a cloud-based solution.
A cloud-based system allows you complete transparency when you want to 'check-in' to enable your operations. Extending it even further to a project management tool will ensure all clients and projects are being attended to in the correct workflow.
Plan for the worst and have the team react as if you weren't there.
Situation planning is a great way to train the team for worst-case scenario situations that could arise without you at the helm. Practising them out with you there will build their confidence in crisis control while you are out of office.
Cross-train the team.
It should go without saying, but everyone should have an understanding of what each other does. By buddying up complementary roles, if there are additional absences while you are away, someone on deck can pick up the slack.
Let clients and stakeholders know ahead of time.
Allow your clients and stakeholders a minimum of 4-weeks notice of your departure. During this time, allow your 2IC to take on most of the engagement to prepare them for the shift. This avoids any prickly conversations of clients feeling 'passed on to someone else in the team at the last minute.
Book in your holiday dates every year.
Commit to taking holidays every year and block out your team's calendar to prepare them. If you don't book it, you won't take the time or work towards the deadline.
Planning a break? What to do now.
Notify stakeholders and customers
As mentioned, let everyone know in advance of your scheduled days off and if your office will also be closed for shut down. Provide details on the support that can be made available during these shut-down days.
Activate areas that can be automated
Look at your daily tasks that can be moved to automation, such as email responses to general enquiries, auto-responses across your social media accounts and any other activities that can shift to an automated workflow.
Delegate tasks
Shift various activities you perform to other team members and don't take these back on. This should form a regular audit of your workload to continue to create space for you to work on the business, not in it.
Review project performance
Look at your projects and audit what activities generate the most income for the least input and what activities cost the most time for the smallest return. Turn on those lower time-cost activities that create the best outcome during the break and switch off the tasks that generate the lowest return for you. After the holidays, don't turn these back on. Each time you conduct these audits, it should be to continue optimising your operations and making strategic cuts to your services.
Christmas holidays should be part of your business plan
We understand the concern around checking out, but your business cannot afford to have you overworked, stressed out, and mentally tired. A recharge for yourself is pivotal to your business.
You stepping away from the business is integral to it continuing to grow. Removing yourself is the best way to generate new ideas and inspiration to transform your success.
Though, making that step can feel like a leap. We can help you prepare your business; let us show you how your business can thrive even when you are sitting back on a sunlounger.